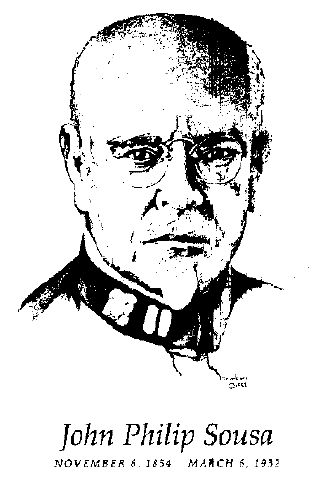 Childhood in Washington - He was born in Washington, D.C., on November 6, 1854.  The birthplace was a modest house at 636 G. Street, SE, in a section of town known then as the "Navy Yard."  He was the third of ten children, four of whom died in infancy.  His father, John Antonio Sousa, was born in Spain of Portuguese parents who had fled their country during an uprising.  His mother, Maria Elisabeth Trinkaus, was born in Bavaria. 
Very little is known about the first four years of John Philip's life.  When he was five he exhibited the intense determination for which he was to be recognized in manhood.  He deliberately soaked himself in a cold rain in protest against his mother's refusal to give him his fill of doughnuts.  The resulting pneumonia rendered him an invalid for over a year and a half.  He was home schooled during this time.
Almost coincidental with John Philip's years in the conservatory of music operated by John Esputa was the American Civil War.  The horrors of war were impressed upon him as he accompanied his parents on visits to wounded men in hospitals and by the nearness of battles outside Washington.  Also impressed upon him, however, was the sound of the military bands which found their way to Washington, and this contributed to what was to become a great passion for band music.
A Marine at 13.  The enlistment in the Marine Corps was not planned, and one of Sousa's favorite stories was the account of how it came about.  He had been practicing his violin at home and was approached by the leader of a circus band who had been listening to his playing from outside.  The flattering bandleader persuaded him to join his troupe secretly for a tour starting the next day.  Circus life would be attractive and exciting, John Philip thought, having visions of being the leader of a circus band himself some day.  The plot was discovered by his father, however, who arose before the scheduled departure time and casually escorted him to Marine Corps headquarters.  Arrangements had already been made with the commandant, and on Tuesday, June 9, 1868, John Philip Sousa was enlisted as a "boy," or apprentice, in the band of the U.S. Marine Corps for a tentative period of seven years, five months, and twenty-seven days.
Conductor of theater orchestras.  By the time Sousa was 20, his formal musical training was coming to an end, and he was playing the violin professionally.  In addition to his appearances with Benkert's small symphony orchestra, he performed in the orchestras of Ford's Theatre (Ford's Opera House) and the Washington Theatre Comique (Comique Summer Theatre).  His position at the Washington Theatre Comique was that of conductor and first violinist, a positionhe accepted readily even though the fare was vaudeville.  It was his first regular conducting experience.  On May 18, 1875, Sousa received a special discharge from the Marine Corps. 
Opportunities in Philadelphia.  Arriving in Philadelphia early in June, 1876, Sousa had difficulty securing a job.  He took the opportunity to hear the orchestra of Theodore Thomas and the band of Patrick S. Gilmore.  Both groups deeply impress him, and he later adopted some of the conducting styles of both men.  He auditioned for Simon Hassler, a music jobber, who promptly placed him in the first violin section of the official centennial orchestra, or International Exhibition Orchestra, which Hassler conducted.  The fact that Hassler had heard of Sousa's work in Washington was of some benefit.
For two weeks commencing June 19, the guest conductor was the French composer Jacques Offenbach.  There is some evidence that Sousa may also have made a short tour of the East with Offenbach, but not with this same orchestra, which remained in Philadelphia.  Sousa was never introduced to Offenbach while playing in the orchestra, but during one performance Offenbach requested an impromptu medley of international airs, and Sousa was asked to supply it. He responded with his first fantasy, "The International Congress." 
Sometime during 1879  Sousa apparently completed his first operetta, Katherine.   It was a collaboration with Wilson J. Vance, a Washington journalist and government clerk.  The work was never produced and was withheld from the public except for rare performances of the overture many years later by the Sousa Band.
Gilbert and Sullivan's H.M.S. Pinafore had become immensely popular in the United States by this time.  One exceptionally fine new company, the Amateur Opera Company, needed a musical director, and Sousa was selected.  Under his alert and demanding direction, the company rapidly took shape and produced several fine performances.  His masterful orchestration contributed to its success.
Marriage.   During a rehearsal of the Pinafore company on February 22, 1879, Sousa met his wife-to-be.  Miss Jane van Middlesworth Bellis, the daughter of a Philadelphia carpenter.  She was celebrating her 16th or possibly 17th birthday.  "Jennie," as he always called her, was a beautiful girl, and it was love at first sight.  On Tuesday, December 30, 1879, John Philip was married to Jane in a semi-private affair at her home.  She was 16 (or 17) and he was 25.  Jennie had not completed her schooling and knew little about such things as cooking, but to Sousa these things were almost totally unimportant.
Conductor of the United States Marine Band.  Sousa's Our Flirtations was playing in St. Louis when Sousa learned by telegram that he was being considered for leadership of the U.S. Marine Band.  A series of telegrams between him and his father resulted in his father accepting the position by proxy, although John Philip had difficulty securing his release from the show.  Sousa and his wife arrived in Washington on the last day of September, 1880, and the next day he enlisted in the Marine Corps.  Technically, this was his third enlistment.