Sounds of Sousa Band
This material covers the concert on Saturday, July 27th, 2013, 2p – 3:30p.
Site: James A. Garfield National Historic Site is most easily accessed from Interstate 90. From I-90, exit at Route 615 (Center Street). Turn left (north) on 615 and follow to Route 20 (Mentor Avenue). Turn left (west) on Route 20. The site is a few blocks down on the right hand side, immediately after Faith Lutheran Church. From State Route 2, exit at Route 615. Turn right (south) on 615 and follow to Route 20 (Mentor Avenue). Turn right (west) on Route 20. The site is a few blocks down on the right hand side, immediately after Faith Lutheran Church. The site address is 8095 Mentor Avenue, Mentor, Ohio 44060. Phone is 440-255-8722.
http://www.nps.gov/jaga/index.htm
In the event of rain, the concert will be present in the Sanctuary of the Faith Lutheran Church, next door to the Garfield site.
MENTOR:  The Sounds of Sousa Band will present a concert on the grounds of the James A. Garfield National Historic Site, 8095 Mentor Avenue, Mentor (44060) on Saturday, July 27th, 2013, at 2p.  The concert is free and open to the public.    
The Sounds of Sousa Band is under the baton of conductor Marcus Neiman. The 90 minute concert, with intermission, will feature works by von Suppé, Pryor, Lake, Press, Sullivan, Lehar, Strauss, Spears, Fillmore, and Sousa.  Featured soloists will be soprano soloist Lara Troyer; and, trombone soloist Robert Adamson. Sounds of Sousa Band's performance is sponsored by the James A. Garfield National Historic Site.
The ensemble was created by Neiman in 1994 in an attempt to recreate concerts in the style of the great band director John Philip Sousa, who started his first professional concert band in 1894.  Neiman's current edition of The Sounds of Sousa Band is composed of 60 of the finest professional wind and percussion players in Northeastern Ohio.  The ensemble has performed for over 500,000 since it's first concert and has been featured throughout Ohio in halls large and small.  Neiman has performed throughout the United States and traveled to Russian in 2004 to lecture on American bands and John Philip Sousa at the University of Moscow and conduct the Volga Concert Band in Saratov, Russia in October of 2004.
Conductors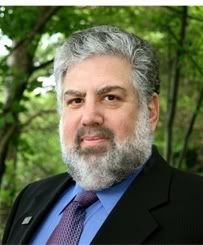 Marcus L. Neiman
, (pictured at left) artistic director and conductor, retired from posts held with the Medina County Schools Educational Service Center in 2010 (1980 through 2000 as fine arts consultant and 2000 through 2010 as director of fine arts tours and festivals). He was formerly director of bands at Medina High School (1972 through 1980). 
He attended the Akron Public Schools, received his bachelor of science in music education degree from The University of Akron, master of music in music education degree from The University of Michigan, postgraduate hours at The Kent State University, and The University of Akron.
He was appointed as the interim assistant director of bands and administrator for the division of bands at the Hugh A. Glauser School of Music at Kent State University in May of 2010 for the academic year 2010-11. In addition to his duties with the division of bands, he also teaches their "Music Teaching as a Profession," "Instrumental Methods for Choral-General Music Majors," courses and supervises music education student teachers. His duties as include program development and outreach. Prior to that, Neiman was appointed to the position of part-time lecturer in January of 2004 for the music department at Case Western Reserve University with major responsibilities of teaching their "Foundations of Music Education" course and supervising music education student teachers and reserved in that post until the Spring of 2010.
Neiman has served The Ohio Music Education Association (OMEA) as a member of the governmental relations and adjudicated events committees, district president, vice-president, state chair for Music In Our Schools and public relations, state editor of their professional journal TRIAD, and state chair for their council of supervisors.  He was elected by OMEAs membership to serve as state president from July 1, 1998 through July 1, 2000, and is currently OMEAs state historian.  He was awarded OMEAs highest honor, the "Distinguished Service Award" on January 29th, 2010 at the Professional Development Conference in Cincinnati, Ohio.  Neiman has been published in Music Educators National Conference journal MEJ, The Instrumentalist, The School Musician, The Music Educator, OMEAs TRIAD, FANFARE magazine, and Bands of America Newsletter.  His first book, edited for MENC, entitled Life in the Music Classroom, was published by MENC in April 1992.  He is listed in Marquis "Who's Who in America (58th Edition).
Neiman has appeared with junior high/middle and high school, college and university, community bands, and American Federation of Musicians union professional bands as a guest conductor and in his characterization of famed bandmaster John Philip Sousa in Illinois, Indiana, Ohio, Michigan, New York, North Carolina, Pennsylvania, (state of) Washington, and Wisconsin.  On October 15, 2004, Neiman conducted the Volga Concert Band in Saratov, Russia in a Sousa-style concert following a week's residence in Moscow and Saratov.  In addition to conducting the Medina Community Band (since 1973), he formed his own professional touring band -- The Sounds of Sousa Band -- (in 1992) to commemorate the 100th anniversary of the formation of Sousa's first non-military band.  To this date he has performed for over 200,000 people in the role of Sousa.  Neiman is a member Local 24 (Akron), American Federation of Musicians.
Neiman continues to conduct Medina Community Band, having served as the conductor longer than any other of the organization's conductors (since the 1973 season), his goal has always been to preserve the presence and character of the traditional "town-band."  Over the years the band has commissioned works by Douglas Court, Robert Feldbush, Stuart Ling, Edmund J. Siennicki, Tadd Russo, and David Shaffer.
Mark Tryon
, associate conductor, (right) is also a band director in the Lake Local Schools.  He directs the Lake High School Marching Band, Symphonic Band, and teaches small group lessons in grades five through eight.  He is a graduate of the University of Akron, where he earned degrees in music education and clarinet performance.  He also served as a graduate assistant in bands at The Ohio State University where he earned a master's degree in instrumental conducting.  In addition to his conducting and teaching responsibilities, he is active as a freelance clarinetist, pianist, and organist, having performed with the Sounds of Sousa Band, Blossom Festival Band, Lakewood Hometown Band, Canton Concert Band, and Silver and Strings Trio.  He is a member of the Ohio Music Education Association.  He resides in North Canton with his wife, Colleen, a clarinetist, and their sons, Calvin and Daniel.
Guest Soloists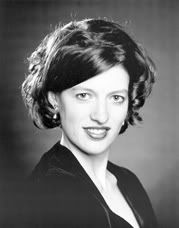 Lara Troyer
(pictured at left)
. 
Described as
singing with an engaging, robust tone
(clevelandclassical.com), Ms. Troyer is a versatile soprano, at home on the opera stage as well as concert and recital stage.  Most recently she performed the Ohio premiere of Ricky Ian Gordon's
Orpheus and Euridice
with Nightingale Opera.  Ms. Troyer has toured with the
New Sigmund Romberg
Orchestra
as their soprano soloist throughout the Midwest and Southeastern United States.  She also spent four years as an Associate Artist with Cleveland Opera.  She has made solo appearances with the Akron Symphony, Canton Symphony Orchestra, Lansing Symphony Orchestra, Rochester Symphony Orchestra, Kent Chorus and Orchestra, Kent/Blossom Chamber Music Summer Series, Southeast Iowa Symphony Orchestra, and PAND (Cleveland).  She has sung lead roles with Lansing Lyric Opera, Lorain Community College and Akron Opera Theatre (Guest Artist for both), Opera in the Ozarks, and Bay View Music Festival.  Last spring she sang a recital of new music for the Cleveland Composer's Guild.  Ms.Troyer recently performed a Midwest recital tour sponsored by Allied Concert Services. She won the Alpha Corinne Mayfield Award in Opera Performance under the National Federation of Music Clubs and the Sing Lansing! Competition; was a finalist in the Opera Columbus Competition and the National Opera Association Vocal Competition; and a regional winner in the National Association of Teachers of Singing Artist Award (NATSAA) competition. Ms. Troyer regularly performs under the auspices of Young Audiences of Northeast Ohio and The Children's Concert Society of Akron.  She has served on the voice faculty at the University of Akron, The College of Wooster, and currently teaches at Kent State University.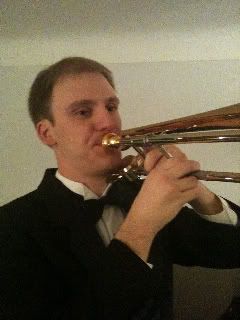 Robert Adamson
(at left) Robert teaches beginning band and orchestra in the Cleveland Heights-University Heights City School District.  This year will be his eleventh year in that position.  He also assists with the high school marching band, and teaches private trombone lessons for students of all ages. Bob has a bachelor's degree in music education from the College of Wooster, and a master's degree from the University of Akron.
An active performer in the Cleveland area, Bob performs as principal trombone in the Cleveland Philharmonic Orchestra, and also plays with the Chagrin Studio Orchestra, The Sounds of Sousa Band, and various other bands and orchestras in the area.  He has been a featured soloist with The College of Wooster Scot Band, the Wooster Chamber Orchestra, and, The Sounds of Sousa Band, as well as with several public schools, including Apple Creek and Aurora High Schools.
About the band!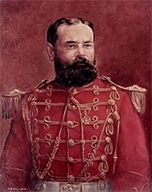 When John Philip Sousa (pictured at left) played his final concert with The United States Marine Band in the late 1890s, one newspaper reporter commented that "
the skies opened up and cried as our little band director played his final concert on the White House lawn for a huge crowd of well-wishers.  Their umbrellas sprung up like black mushrooms as the rain continued and the band played."  
They certainly don't write like that anymore, do they?
Sousa took a huge chance leaving the security of his military commission and directorship of the United States Marine Band.  Yet, David Blakely, manager for such great ensembles as the Philadelphia Symphony Orchestra, (Patrick) Gilmore Band, and others, encouraged Sousa that he would become a wealthy man.  Blakely was right, but it took at least one name change (from The New Marine Band, which the U.S. Congress didn't appreciate), to the final and more lasting name of simply, The Sousa Band, to get the entire process in motion.
To celebrate the 100th anniversary of Mr. Sousa's starting his first professional band in 1892, Marcus L. Neiman decided to organize a professional level concert band in Northeastern Ohio capable of performing throughout the state and nation.  His goal, simply stated, was to produce a band capable of bringing the sights and sounds of John Philip Sousa to a new generation of listeners.
Thus was born Marcus Neiman & The Sounds of Sousa Band.  The ensemble, called the great band from Ohio's Western Reserve, is the only professional touring concert band in Northeastern Ohio.  Encouraged by life-long friends Mike Hadgis and Richard Keel, then both officers of the Akron (Ohio) American Federation of Musicians Local 24.  With the help of his wife, Mary Ann, the two began recruiting members for the ensemble.  The criteria was simplistic:  (1) the finest wind and percussion players in the area; (2) a dedication to reproducing the music of the Sousa era; and, (3) the ability to be a team player and work for the general good of the band.  In 2009, due in part to the changing economic times, the ensemble moved from an all-union ensemble to a non-union ensemble.  The ensemble is currently in a reorganization process and rehearsing monthly.
Concertizing in the Cincinnati area encouraged the Neiman's to use the same formula "down south" to recruit another roster of superior players.  To date, the entire Sousa Band roster boasts a membership of well over 125 musicians from across the state of Ohio.  The majority of the members of the ensemble are professional musicians, orchestra players, school instrumental music directors, or studio musicians.  Almost all are capable of, or have performed as a soloist with Sounds of Sousa.
"Our goal has been, and will continue to be to entertain our audience,"  Neiman commented.  We have expanded our operation from simply playing summer venue concerts to a full year season of engagements, educational concerts, as well as guest appearances.  The band has performed in 33 of the 88 counties in Ohio, and in Indiana, Kentucky, New York, North Carolina, Ohio, Pennsylvania, (state of) Washington, and Wisconsin.  The ensemble has performed engagements for an estimated 500,000 people.
The Sounds of Sousa Band

Marcus Neiman, artistic director-conductor
Mark Tryon, associate conductor
Robert Adamson, trombone soloist 
Lara Troyer, soprano vocal soloist 
Program – subject to change
Anthem, Star Spangled Banner  
(1889)
.............................................  Francis Scott Key-Damrosch/
arranged by John Philip Sousa
Overture, Light Cavalry
(1866)
..........................................................................  Franz von Suppé/
arranged by Henry Fillmore
ENCORE – El Capitan (march)
(1896) 
..............................................................   John Philip Sousa
Trombone Solo, Blue Bells of Scotland  (1801)  ........................................................   Arthur Pryor/arranged by E.M. Pearson
Robert Adamson, trombone soloist
Salute to President James A. Garfield


March, President Garfield's Inauguration March  (1881)  .......................   John Philip Sousa
March, Yorktown Centennial  (1881)  .....................................................   John Philip Sousa 
March, In Memorium – Garfield's Funeral March  (1881)  .......................   John Philip Sousa

ENCORE, Our Flirtations (march) (1880)  .........................................................   John Philip Sousa 
Dance, Wedding Dance from Hasseneh (1955)  ....................................................   Jacques Press/arranged by Herbert Johnson
Interval
Suite, Pineapple Poll (1870)  ..............................................................................   Arthur Sullivan/arranged by Charles Mackerras
Mvt 1 - Opening number
Mvt 3 – Poll's Dance
Mvt 4 – Finale
ENCORE, The Booster (absurdity rag) (1903)  ......................................................   Mayhew L. Lake
Vocal Solos


Vilia from Merry Widow  (1861)  ......................................................................   Franz Lehár/arranged by Leonard B. Smith
Laughing Song from Die Fledermaus  (1874)  .............................................   Johann Strauss/arranged by Leonard B. Smith
Lara Troyer, soprano soloist
March, Right Forward (1881)  ........................................................................   John Philip Sousa
Characteristic, Lassus Trombone (2009)  ...............................................................  Henry Fillmore
Patriotic, Armed Forces Salute (1972)  .............................................................. arr. Thomas Knox 
March, The Stars and Stripes Forever (1896)  ...................................................  John Philip Sousa
ENCORE, God Bless America (march) (1918)  ...........................................................   Irving Berlin/arranged by Erik Leidzen
Program Notes 
Star Spangled Banner (John Stafford Smith arranged by John Philip Sousa) uses lyrics from a poem written in 1814 by Francis Scott Key, a then 35-year-old attorney and amateur poet, after seeing the bombardment of Fort McHenry at Baltimore, Maryland, by Royal Navy ships in Chesapeake Bay during the War of 1812.
The poem was set to the tune of a popular British drinking song, written by John Stafford Smith for the Anacreontic Society, a London social club.  Set to Key's poem and renamed "The Star-Spangled Banner," it would soon become a well-known American patriotic song.  It was recognized for official use by the United States Navy in 1889 and President Wilson the in 1916, and was made the national anthem by a congressional resolution on March 3, 1931 (46 Stat. 1508, codified at 36 U.S.C. § 301), which was signed by President Herbert Hoover.
Before 1931, other songs served as the hymns of American officialdom. Most prominent among them was "Hail, Columbia" which served as the de facto national anthem from Washington's time and through the 18th and 19th centuries.  Following the War of 1812 and subsequent American wars, other songs would emerge to complete for popularity at public events, among them "The Star Spangled Banner."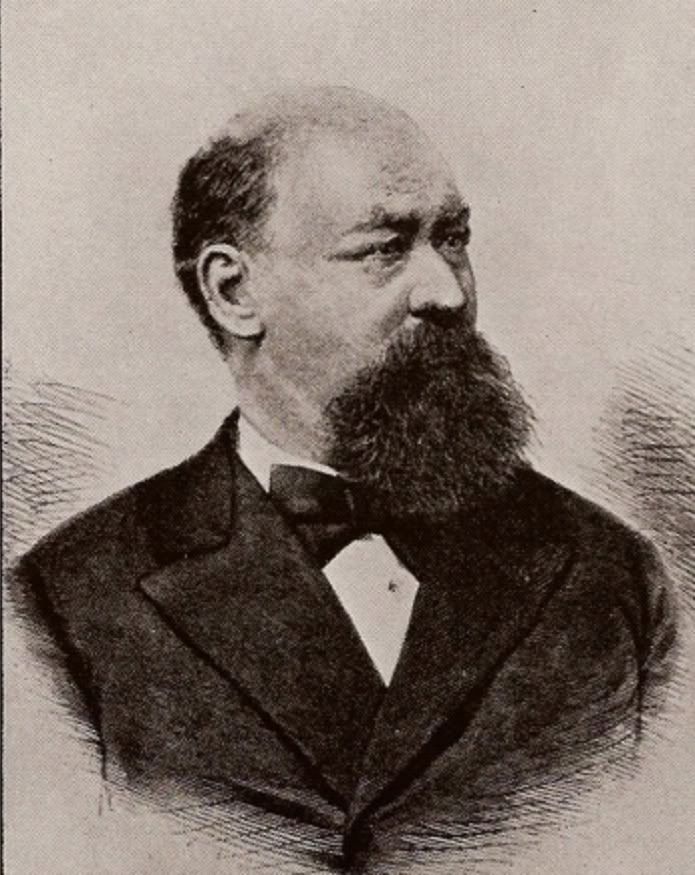 Franz von Suppé
(at left) was the father of the Austrian operetta which was to reach its summit with Johann Strauss II.  Like so many of his German compatriots, Suppé was a profound admirer of Offenbach.  His aim was to carry the techniques of
opera-bouffe
in Germany and Austria.  Actually, what he did was to create his own genre: 
the operetta
, which placed more stress on humor and less on satire; more on tenderness and sentimentality and less on burlesque; and in which the waltz became the favorite dance form.
The Light Cavalry Overture, written in 1866, is martial music at its best. Beginning with those wonderful fanfare calls in the brass, we are treated to one of the best examples of Saturday morning cartoon cavalry gallops imaginable.  The delicate transitional sections is actually a broad Hungarian-like song guiding us back to the vigorous military melody and opening brass calls and pushing us toward the "blood and guts" finale.
El Capitan (march) is one of the perennial Sousa favorites and has enjoyed exceptional popularity with bands since it first appeared.  It was extracted from the most successful of the Sousa operettas, El Capitan.  El Capitan of the operetta was the comical and cowardly Don Medigua, the early seventeenth-century viceroy of Peru.  Some of the themes appear in more than one act, and the closing theme of the march is the same rousing theme which ends the operetta.
This was the march played by the Sousa Band, augmented to over a hundred men and all at Sousa's personal expense, as they led Admiral Dewey's victory parade in New York on September 30, 1899.  It was a matter of sentiment with Sousa, because the same march had been played by the band on Dewey's warship Olympia as it sailed out of Mirs Bay on the way to attack Manila during the Spanish-American war.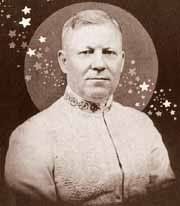 Arthur Pryor
(pictured at right) was born in Saint Joseph (Missouri) in 1870, of a musical family. At six, he began to study several instruments, but his astonishing skill on the trombone to be billed "The Boy Wonder" when he performed with a Chicago band at age 11.  His innovative expressiveness and phenomenally fast slide technique caused Czar Nicholas II of Russia to dub him the "Paganini of the trombone." In 1889, he joined the Alessandro Liberati Band and toured the West.  In 1892, he joined the band of John Philip Sousa performing an estimated 10,000 solos over his ten years with the ensemble.  In 1903, he formed his own band in New York and would go on to make six coast-to-coast tours. 
The Blue Bells of Scotland.  During his career, Pryor wrote solos for his own use as a soloist.  The works fit his skill set and virtuoso playing style.  Written in 1801, we know that Pryor performed the solo with the Sousa Band many times.
Salute to President James A. Garfield.  
President Garfield's Inauguration March.
The only two marches Sousa dedicated to presidents of The United States were composed for James A. Garfield, and they marked the beginning and end of his short tenure of office.  The first was the stately
President Garfield's Inauguration March,
which bears the inscription Opus 131.  It was first performed by the United States Marine Band, with Sousa conducting, at the inauguration ceremonies on March 4
th
, 1881.
James A. Garfield (pictured at left) began his inaugural address by acknowledging the belief in some parts of the world that government could not safely be entrusted to the people. Having quieted his vast audience with that sobering thought, Garfield proceeded to extol the wonders of popularly controlled government, which he thought greatly overshadowed the risks, and to argue convincingly that the United States democratic system of government expanded the boundaries of human freedom. 
President-elect James Garfield documented in his diary events on the eve of his inaugural. On March 3, 1881, he wrote: "Got but three hours of sleep last night but made some progress in the new draft of inaugural." Following dinner with President Hayes and his old classmates, Garfield returned late to his hotel and continued writing his inaugural address and he recorded that he "wrote last sentence at 2 clock a.m. March 4."
On March 5, he stated: "The day opened with snow & sleet but towards noon the sky began to clear . . . The crowd of people was very great--Reached President's Chamber in the Senate . . . at 11:30. At 11:55 went to the Senate & witnessed the inauguration of the Vice President--Thence to the East portico of the Rotunda--and read my inaugural--slowly & fairly well--though I grew somewhat hoarse toward the close--Returning to the Executive Mansion--lunched with the family [then two] & a half hours on the reviewing stand. Inauguration reception at Museum building in the evening--Home at Eleven."
More than seven thousand people attended the inauguration of James Garfield in 1881. The inaugural ball was a gala affair, held at the Smithsonian Institute's new National Museum Building, now the Arts and Industries Building. Music was provided by the Marine Corps Band, led by John Philip Sousa.
Yorktown Centennial
.  The Yorktown (Virginia) Centennial was held to commemorate the hundredth anniversary of the last important battle of the Revolutionary War: the surrender at Yorktown.  Sousa (pictured in an 1881 picture at right), then leader of the United States Marine Band, composed this march for the event and dedicated it to Colonel H.C. Corbin, master of ceremonies of the centennial.
Another printing of the same march was issued in 1900 as "Sen Sen." This was part of a promotional scheme of the T.B. Dunn Company of Rochester, New York, a subsidiary of the Sen Sen Chiclet Company.  It is not known whether or not Sousa was a part of the business venture.
It is known that President Garfield, on the ride to the train station where he was assassinated, remarked that he would make an address at the Yorktown Centennial Celebration, devoting ttime to the themes of preserving the rights of African-Americans and insuring educational opportunities to them, and to all Americans., but northing more has been found. Had the President not been assassinated, both President Garfield and Sousa would have been present at the celebration when the march was premiered.
In Memoriam (In Memoriam, Garfield's Funeral March).  Washington's best-known Mason in 1881 was President James A. Garfield, who was a member of Columbia Commandery No. 2, Knights Templar.  Sousa was also to belong to this same organization five years later, but during Garfield's presidency, he was being worked in lower degrees of Masony.
Sousa was not well acquainted with the President, but he was greatly shaken at the news of the assassination. In the autobiography, he tells of hearing paperboys shouting the news of Garfield's death.  It was unexpected, because it had been reported that the President was recovering satisfactorily from the gunshot wound of two months earlier.  Shocked, Sousa rose from his bed and went outside for a walk.  With the event weighing heavily on his mind, he walked all through the night and into the next morning.  When he returned home, he immediately committed the dirge "In Memoriam" to paper.
The dirge was played by the United States Marine Band as the President's body was received in Washington and then again at its final resting place in Cleveland.  It was afterward played infrequently by the Marine Band until half a century later, when it was played while John Philip Sousa's body was being escorted to the grave in Congressional Cemetery.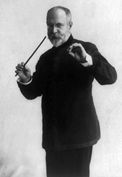 Invincible Eagle.
Blache Duffield, soprano of the Sousa Band in 1901, witnessed the creation of this march, and she provided this rare description of the Sousa composing:
"It was [on] a train between Buffalo and New York. Outside the coach the lights of towns along the route flashed by like ghosts fluttering at the window panes.  The night was dark and the few stars above twinkled fitfully.  Mr. Sousa sat in his chair in the dimly lit Pullman.  At the further end of the car a porter diligently brushed cushions.  At intervals the engine whistled as if in pain.
"Suddenly and without previous warning Mr. Sousa (pictured in 1901, at left) began to describe circles in the air with a pencil, jerking back and forth in his seat meanwhile.  Gradually, the circumference of his pencil's arcs diminished and Mr. Sousa drew a notebook from his pocket, still humming to himself.
"Notebook and pencil met.  Breves and semi-breves appeared on the page's virgin surface.  Quarter and sixteenth notes followed in orderly array.  Meanwhile Mr. Sousa furrowed his brow and from his pursed lips came a stirring air -- rather a martial blare, as if hidden trombones, tubas, and saxophones were striving to gain utterance.
"Now Mr. Sousa's pencil traveled faster and faster, and page after page of the notebook were turned back, each filled with martial bars.  [I] looked on from over the top of a magazine and listened with enthusiasm as Mr. Sousa's famous march, The Invincible Eagle, took form.
"I tried to attract Mr. Sousa's attention while he was supplying the accompaniment of flutes, oboes, bassoons, and piccolos, but it was not until he had picked out the march on a violin on his fingers, put his notebook in his pocket, his [imaginary] violin in his case and his cigar back in his mouth that he finally turned toward me and casually remarked that it was a dark night outside."
The march was dedicated to the Pan-American Exposition, held in Buffalo in the summer of 1901.  It outlived a march entitled The Electric Century by Sousa rival, Francesco Fanciullli, whose band also played at the Exposition.  At first, Sousa thought The Invincible Eagle would surpass The Stars and Stripes Forever as a patriotic march, although he nearly entitled it Spirit of Niagara.
Suite Hasseneh (The Wedding) – Wedding Dance. Born in Russia, Jacques Press began studying piano at the age of six and later studied composition in Paris. He played piano for silent movies during his teens, lived for a short time in Istanbul and Paris, and toured Europe with his own orchestra in 1924-25. He immigrated to the U.S. in 1926. After 12 years as an arranger for several large New York City movie houses, he moved to Hollywood, where he was active as a composer and arranger of songs and scores for films.
The composition clearly captures the excitement and increasing tempo and fever of a hora that would have been danced at a Jewish wedding.  The Horah (הורה), which is somewhat different from that of some of the Eastern European countries, is widespread in the Jewish diaspora and played a foundational role in modern Israeli folk dancing. To start the dance, everybody forms a circle, holding hands, and steps forward toward the right with the left foot, and then follows with the right foot. The left foot is then brought back, followed by the right foot. This is done while holding hands and circling together in a fast and cheerful motion to the right. Large groups allow for the creation of several concentric circles.
The Wedding Dance is a lively hora from his Hasseneh Symphonic Suite for Orchestra.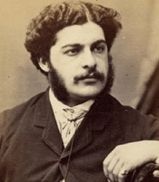 Pineapple Poll Suite
by
Arthur Sullivan
. The ballet
Pineapple Poll
is a spoof of the Gilbert and Sullivan operettas.  The plot is based upon "The Bumboat Woman's Story" of Gilbert's
Bab Ballads
, which was later developed by Gilbert into
H.M.S. Pinafore.
The story evolves around Pineapple Poll and her colleagues who are all madly in love with the captain of the good ship H.M.S. Hot Cross Bun.  In order to gain admittance to the ship they disguise themselves in sailor's clothes, a fact which is kept secret from the audience until near the end of the ballet.
According to Charles MacKerras, the British composer who composed this ballet, "The score is a patchwork quilt of tunes from most of the Gilbert and Sullivan operas.  Every bar of Pineapple Poll, even the short bridge passages, is taken from some opera or other. 
In 1950, the copyright on Sullivan's (pictured at right) music expired. Gilbert's words would still enjoy another eleven years of protection, but the music was now fair game. One of the first to exploit it was Sadler's Wells, who mounted a ballet called Pineapple Poll based on Gilbert's Bab Ballad "The Bumboat Woman's Story" and set exclusively to music by Sullivan, arranged by a young Charles Mackerras. The ballet premiered in March, 1951, to coincide with the Festival of Britain. It caused an immediate sensation and remained in the Sadler's Wells repertoire for years to come.
During the war, Mackerras had played oboe in the pit of a Syndey theatre, where they produced all the G&S operas except for Utopia and Grand Duke (the only two not represented in Poll). Mackerras also played piano for a ballet arrangement of Offenbach's Gay Parisienne, and it occurred to him that G&S would be similarly well-suited to dance.
Mackerras's arrangement weaves tunes from the Savoy Operas together brilliantly. The orchestration bounces from one tune to the next so quickly that the listener can scarcely keep up. His arrangement uses a much larger orchestra than Sullivan's forces — three each of woodwind and trumpets, plus lots of percussion. 
The Booster  absurdity rag was written by Mayhew Lester Lake (1879 - 1955) who was one of the most prolific arrangers and composers of band music. Lake was born in Southville Massachusetts in 1879. After studies at the New England Conservatory of Music, Lake played violin in the Boston Symphony Orchestra. He later became well-known as a conductor, first at the Payret Theater in Havana, Cuba, and then with a number of stage performers, including Sophie Tucker, Al Jolson, and Mae West. After moving to New York, Lake made arrangements for some of American popular music's greatest performers and songwriters including Victor Herbert, George M. Cohan, Percy Grainger, Edwin Franko Goldman, John Philip Sousa, Henry Hadley, and Paul Whiteman. 
For thirty-five years, beginning in 1913, Lake was also editor-in-chief of the band and orchestra department at the music publisher Carl Fischer. The manuscripts in this collection were used by Lake's concert band, the Symphony in Gold, which he conducted for NBC radio. Lake's autobiography, Great Guys: Laughs and Gripes of Fifty Years of Show-Music Business was published in 1983. His music is featured on volume 79 of Robert Hoe's Heritage of the March series. Lake published pieces under several pseudonyms including Lester Brockton, Paul DuLac, Charles Edwards, William Lester, Robert Hall, and Alfrey Byers. 
The Booster has received very little play time in our century; however, the piece is an outstanding example of the American ragtime form.
Franz Lehár
(pictured at left) was born in the northern part of Komárom, Kingdom of Hungary, Austria-Hungary  (now Komárno, Slovakia), the eldest son of an Austrian bandmaster in the Infantry Regiment No. 50 of the Austro-Hungarian Army and a Hungarian woman from a family of German descent. He grew up speaking only Hungarian until the age of 12. Later he put a diacritic above the "a" of his father's name "Lehar" to indicate the long vowel in Hungarian phonology.
While his younger brother Anton entered cadet school in Vienna to become a professional officer, Franz studied violin and composition at the Prague Conservatory, where his violin teacher was Antonín Bennewitz, but was advised by Antonín Dvořák to focus on composing music. After graduation in 1899 he joined his father's band in Vienna, as assistant bandmaster. In 1902 he became conductor at the historic Vienna Theater an der Wien, where his first opera Wiener Frauen was performed in November of that year.
He is most famous for his operettas – the most successful of which is The Merry Widow (Die lustige Witwe) – but he also wrote sonatas, symphonic poems, marches, and a number of waltzes (the most popular being Gold und Silber, composed for Princess Pauline von Metternich's "Gold and Silver" Ball, January 1902), some of which were drawn from his famous operettas. Individual songs from some of the operettas have become standards, notably "Vilja" from The Merry Widow and "You Are My Heart's Delight" ("Dein ist mein ganzes Herz") from The Land of Smiles (Das Land des Lächelns).
Johann Strauss, Jr.
Mein Herr Marquis (Laughing Song)
(pictured at right)
from
Die Fledermaus
).  Strauss was born in St. Ulrich near Vienna (now a part of Neubau), Austria, on October 25, 1825, to the famous composer Johann Strauss I. His father did not want him to become a musician but rather a banker.  Nevertheless, Strauss Junior studied the violin secretly as a child with the first violinist of his father's orchestra, Franz Amon.  When his father discovered his son secretly practicing on a violin one day, he gave him a severe whipping, saying that he was going to beat the music out of the boy.  It seems that rather than trying to avoid a Strauss rivalry, the elder Strauss only wanted his son to escape the rigors of a musician's life.  It was only when the father abandoned his family for a mistress, Emilie Trampusch that the son was able to concentrate fully on a career as a composer with the support of his mother
Laughing Song. Dr. Falke, a notary, had gone to a costume ball dressed as a bat. He drank too much and, when he passed out, his friends laid him out on the sidewalk so that he awoke in full costume to the derisive shouts of the school children. Ever since then, he was jeered at as "Doctor Bat" wherever he went. The plot of the operetta pivots on Dr. Falke's wish to get even with Eisenstein, chief perpetrator of the joke. The work is full of mistaken identities as all the participants show up at a ball in disguise, and each reveals what he or she shouldn't to the wrong person.
Eisenstein's maid, Adele, goes to the ball disguised as a real lady, and the Marquis mistakes her for his maid. Of course, she IS his maid, but she is dressed very elegantly, in Eisenstein's wife's gown. Everyone tells him he is very un-gallant to tell her that she looks like a maid. Adele then admonishes him for being so unobservant.
"My dear Marquis, a man like you ought to know better than that. Let me therefore advise you to look at people more closely. My hand is too tiny to behold, my foot too small and graceful! My speech, so refined, my dainty waist and elegant figure, you'll never find a lady's maid who has these things!"
Henry Fillmore (pictured at right below) was one of our most prolific composers with 256 compositions to his record and almost 800 arrangements.  He published under various pseudonyms as well as his own name: Henry Fillmore -114; Gus Beans – 2; Harold Bennett – 65; Ray Hall – 3; Harry Hartley – 6; Al Hayes – 57; Will Huff – 8; and Henrietta Moore – 1. 
According to Herb Block, Henry got into a conflict with his father (who composed and published liturgical music in Cincinnati) over the kind of music that Henry was composing.  Henry liked march music and said, "I will huff and puff and I will write my own music." Hence, the name Will Huff.
Fillmore was a true free spirit.  He was brought up by a conservative family in a conservative town.  When he couldn't do as he wished, he ran away with a circus and played trombone in the circus band.  To top it all off, he married an exotic dancer.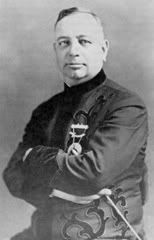 Lassus Trombone
(Characteristic). The characteristic carried the subtitle "De Cullud Valet to Miss Trombone" and was Henry's favorite of this "trombone smears."  It was also recognized by John Philip Sousa, who included it on every concert of his last tour with his band.  The sheet music to "Lassus Trombone" sold over two million copies.
 "Lassus Trombone," composed in 1915, is a musical depiction of the happy, shiftless, Jim Crow. However, many have never assumed, or suspected, that the title had any racial or ethnic overtones.  Others have always assumed that the implication of the title was quite different.  In the southern United States, there is a food substance which may be largely unknown in other regions, called molasses.  This is a thick, pungent, sugary syrup, usually a by-product of the process of extracting sugar from sugar cane.  The syrup is thick under any circumstances, and much more so when it is cold.  A favorite saying in this part of the world is "slow as molasses in January."  In the southern dialects, the first syllable is sometimes elided, producing "'lasses." 
Thus, some speculate that might be the origin of the "Lassus" in "Lassus Trombone."  In this sense, it would refer to the slides and glissandos (smears) which are required of the trombonists who perform it.  Pure speculation on my part, I admit, but it seems as likely to me as to read racism into the composition.
Armed Forces Salute, arranged by Thomas Knox. Sousa was called the "Pied Piper of Patriotism." It is our honor to salute the members of our armed forces who have served, or are serving our country.
Thomas Powell Knox was born in Danville, Illinois, in 1937. As a young boy, he heard the US Marine Band on tour and he decided that he wanted to play in that band. He studied trumpet and cornet and majored in music at the University of Illinois, which is considered to be the birthplace of college band music. In 1961, he joined the Marine Band as a trumpeter, moving to the arranging staff in 1966. Three years later, he was appointed to the position of chief composer and arranger, which he held until his retirement in 1985. Knox's music was often based on hymns, folk music, and patriotic tunes. His God of Our Fathers, a set of variations based on the Methodist tune, was commissioned for President Ronald Reagan's first inauguration in 1981 and has been played at every subsequent presidential inauguration. The dean of American band music, Frederick Fennell, commented that Knox "… had a style definitely of his own. It was a blend of band and symphonic music … He wrote the kind of music he knew would give pleasure to other people, which is not so easy to do." The Marine Band's library contains 263 Knox arrangements for concert band, brass choir, string orchestra, wind ensembles, chorus and solo voice, and dance band. In 2004, he became ill on a train traveling from his home in Mount Dora, Florida, to Washington, D.C. He died from septicemia in a hospital in Columbia, South Carolina.
Stars and Stripes Forever
(John Philip Sousa – pictured at left). The march is considered the finest march ever written, and at the same time one of the most patriotic ever conceived.  As reported in the
Philadelphia Public Ledger
(May 15, 1897)
" ... It is stirring enough to rouse the American eagle from his crag, and set him to shriek exultantly while he hurls his arrows at the aurora borealis."
 (referring to the concert the Sousa Band gave the previous day at the Academy of Music).
The march was not quite so well received though and actually got an over average rating for a new Sousa march.  Yet, its popularity grew as Mr. Sousa used it during the Spanish-American War as a concert closer.  Coupled with his Trooping of the Colors , the march quickly gained a vigorous response from audiences and critics alike.  In fact, audiences rose from their chairs when the march was played.  Mr. Sousa added to the entertainment value of the march by having the piccolo(s) line up in front of the band for the final trio, and then added the trumpets and trombones join them on the final repeat of the strain.
The march was performed on almost all of Mr. Sousa's concerts and always drew tears to the eyes of the audience.  The author has noted the same emotional response of audiences to the march today.  The march has been named as the national march of The United States.
There are two commentaries of how the march was inspired.  The first came as the result of an interview on Mr. Sousa's patriotism.  According to Mr. Sousa, the march was written with the inspiration of God.
"I was in Europe and I got a cablegram that my manager was dead.  I was in Italy and I wished to get home as soon as possible, I rushed to Genoa, then to Paris and to England and sailed for America.  On board the steamer as I walked miles up and down the deck, back and forth, a mental band was playing 'Stars and Stripes Forever.'  Day after day as I walked it persisted in crashing into my very soul. I wrote it on Christmas Day, 1896."
The second, and more probable inspiration for the march, came from Mr. Sousa's own homesickness.  He had been away from his homeland for some time on tour, and told an interviewer:
"In a kind of dreamy way, I used to think over old days at Washington when I was leader of the Marine Band ... when we played at all public functions, and I could see the Stars and Stripes flying from the flagstaff in the grounds of the White House just as plainly as if I were back there again."
"Then I began to think of all the countries I had visited, of the foreign people I had met, of the vast differences between America and American people and other countries and other peoples, and that flag our ours became glorified ... and to my imagination it seemed to be the biggest, grandest, flag in the world, and I could not get back under it quick enough."
"It was in this impatient, fretful state of mind that the inspiration to compose 'The Stars and Stripes Forever' came to me."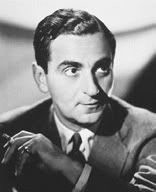 Irving Berlin
(pictured at right). With a life that spanned more than 100 years and a catalogue that boasted over 1000 songs, Irving Berlin epitomised Jerome Kern's famous maxim, that "Irving Berlin has no place in American music - he is American music".
Irving Berlin was born Israel Berlin in May 1888. When his father died, Berlin, just turned 13, took to the streets in various jobs, working as a busker, singing for pennies, then as a singer / waiter in a Chinatown café. In 1907 he published his first song, Marie From Sunny Italy and by 1911 he had his first major international hit, Alexander's Ragtime Band. 
Over the next five decades, Irving Berlin produced an outpouring of ballads, dance numbers, novelty tunes and love songs that defined American popular song for much of the century. A sampling of just some of the Irving Berlin standards included: How Deep Is the Ocean?, Blue Skies, White Christmas, Always, Anything You Can Do, I Can Do Better, There's No Business Like Show Business, Cheek To Cheek, Puttin' On The Ritz, A Pretty Girl Is Like A Melody, Heatwave, Easter Parade, and Lets Face The Music and Dance. In a class by itself is his beloved paean to his beloved country, God Bless America. 
God Bless America. The time was 1940. America was still in a terrible economic depression. Hitler was taking over Europe and Americans were afraid we'd have to go to war. It was a time of hardship and worry for most Americans.

This was the era just before TV, when radio shows were huge, and American families sat around their radios in the evenings, listening to their favorite entertainers, and no entertainer of that era was bigger than Kate Smith. Kate was also large in size, and the popular phrase still used today is in deference to her, "Ain't over till the fat lady sings". Kate Smith might not have made it big in the age of TV, but with her voice coming over the radio, she was the biggest star of her time.
Kate was also very patriotic. It hurt her to see Americans so depressed and afraid of what the next day would bring. She had hope for America, and faith in her fellow Americans. She wanted to do something to cheer them up, so she went to the famous American song-writer, Irving Berlin and asked him to write a song that would make Americans feel good again about their country.
When she described what she was looking for, he said he had just the song for her. He went to his files and found a song that he had written, but never published, 22 years before - way back in 1917. He gave it to Kate Smith and she worked on it with her studio orchestra. She and Irving Berlin were not sure how the song would be received by the public, but both agreed they would not take any profits from God Bless America. Any profits would go to the Boy Scouts of America. Over the years, the Boy Scouts have received millions of dollars in royalties from this song.